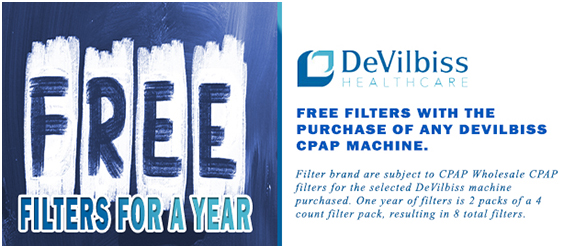 Manufacturer: DeVilbiss
Content of Package: CPAP Machine, 8' Power Cord, Initial Filters, Travel Bag, 6' CPAP tubing, Instructions.
Description: The IntelliPAP Standard CPAP Machine is the quietest on the market, which assures you and your partner are not disturbed from a restful night's sleep. Large backlit buttons and an easy to read display screen mean this unit is perfect for CPAP patients of all ages, and slip resistant pads on the bottom of the machine create a higher level of safety. An 8 foot power cord has the sought after feature of lacking the annoying power brick, making it less of a hassle and able to easily reach to any bedside table.
An optional heated humidifier can help provide further comfort during therapy, and the unit snaps into place, saving space and needing no additional power cords. The water resistant water chamber helps eliminate any costly water damage by keeping water out of your CPAP machine. SmartCode technology helps track and store your therapy data, allowing later review with your doctor to ensure your therapy pressure is working properly. The overall integrated design makes this machine a great option for travel.
PROPOSITION 65 WARNING: This product contains a chemical known to the State of California to cause cancer, birth defects or other reproductive harm. Please note: A Proposition 65 warning does not necessarily mean a product is in violation of any product-safety standards or requirements. The law requires anyone who sells products in the State of California to display this message.
Product Skus: DV51D, DV51D-S, DV51D-HH-S, DV51D-HH-HT, DV51D-HH
Pressure Range: 3 - 20 cm H2O
Starting Ramp Pressure: 3 to CPAP Pressure
Weight the Humidifier: 4.45 lbs.
Altitude Compensation: Auto
DC Power : Yes
Ramp Time: 0 - 45 Minutes
Dimensions: 6.4" x 6.5" x 8.4"
Data Storage: Yes
Electrical Requirements: 110 - 240 AC
Warranty: 3 Years
---
Rating:
I love, love love Devilbiss and all of their products. I have been using the Devilbiss Intellipap for some years now. I have never had a problem with the machine.
- Ellen G.
Submitted on June 26, 2017
---
Rating:
I have been using Devilbiss products for many years now. This is my 2nd Devilbiss machine and I really do love it. The 5 year warranty on the machine is what prompted me to buy it. Thank you so much to the staff at CPAP Wholesale for all of your help.
- Amanda V.
Submitted on February 14, 2017
---
Rating:
This is my second Devilbiss CPAP machine the same model and everything. I am very happy with their machines. What I really like is that they are made in the USA and have a 5 year warranty.
- Kenneth H.
Submitted on June 27, 2016
---
Rating:
I never ever have anything bad to say about Devilbiss CPAP machines! They are inexpensive, very lightweight, very easy to use, great for travel, and they offer a 5 year warranty! Devilbiss you rock! :)
- Sharon B. -MI
Submitted on July 7, 2015
---
Rating:
I love my Devilbiss machine it is very small and compact for me because I travel a lot! I love that there is a 5 year warranty! Thank you so much Sandy for suggesting this machine your great! :)
- Carol W.
Submitted on March 25, 2015
---
Rating:
This machine takes up such little space and I love how quiet it runs. The humidifier much easier to fill than my last machine and it keeps itself very clean, but is easy to take out to fill and clean too.
- Oscar , Miami
Submitted on January 7, 2014
---
Show All 6 Reviews
---
Write your own review: