Manufacturer: ResMed
Contents of Package:AirFit F20 For Her mask, Headgear, Instructions
Description: The AirFit 20 For Her Full Face CPAP mask is ResMed's newest mask in its full face line. As a continuation of the AirFit series your mask has been created with your comfort at its center, seeking to adapt to every user's unique contours and keeping you snug throughout the night. ResMed's InfinitySeal cushion technology has been created to provide the softest cushion yet, but still one that provides a secure seal. Because it was designed taking all pressure settings into account, you can be sure that your AirFit 20 will stay sealed no matter what your pressure.
Boasted as one of ResMed's most innovative designs, the AirFit 20 was created with you, the patient, in mind. Comfort is the number one priority; with the soft and adaptable mask cushion as well as the integrated padding on the mask frame, you can be certain you will feel at ease throughout the night. This redesigned mask comes with all of the bells and whistles of all ResMed masks. A thin, flexible frame allows you to sleep in a variety of positions, keeping you comfortable. A quick release mask elbow as well as magnetic quick release mask clips ensure that you are easily able to take a break from your machine during the night to use the restroom or get a glass of water. Thanks to the lower profile design, the AirFit 20 is a great full face option for users that require the coverage of a full face mask, but don't want the bulk. Resting under the eyes, this mask gives you the best of both worlds!
Features:
InfinitySeal cushion

Added mask frame padding

Quick release elbow

Magnetic headgear clips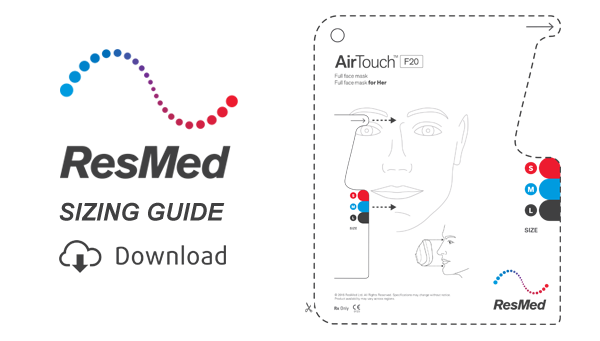 Product Skus: 63403, 63455, 63404
This Product Includes
1 Mask in Selected Size
1 Headgear
Product Specifications
Headgear Dimensions (Upper Straps): 6 in L
Headgear Dimensions (Lower Straps): 11.75 in L
Headgear Weight: 0.93 oz
Cushion Dimensions (Large): 4.75 in L x 3.25 in W x 2.5 in H
Cushion Weight (Large): 1.50 oz
Mask with Headgear Weight: 4.19 oz
Mask without Headgear Weight: 3.26 oz
Material Components (Cushion Assembly): Silicone Elastomer and Polycarbonate
Material Components (Elbow Assembly): Polyamide, Silicone Elastomer, Polycarbonate, and Polybutylene Terephthalate
Material Components (Frame Assembly): Polyester Elastomer, Polycarbonate, Nylon/Elastane, and Metal Plated Magnet
Material Components (Headgear): Nylon/Elastane, Polyurethane, and Polyamide
Material Components (Headgear Clip): Polycarbonate and Metal Plated Magnet
---
Rating:
This mask is just like the AirFit F10 but a better version. Its very comfortable, lightweight, and very easy to disassemble and clean. Thank you CPAP Wholesale for your great customer service and helping me with my order.
- Connie M.
Submitted on July 10, 2017
---
Rating:
I have always used Resmed products for many years now. I was using the AirFit™ F10 For Her, but when they came out with this one I was so happy. They did improve on some features and that just makes it better. Way to go Resmed you have a customer for life.
- Barbara L.
Submitted on May 5, 2017
---
Write your own review: